Emergency Preparedness and writing an Emergency Action Plan is part of OSHA's requirements.
Learn more about Emergency Preparedness
Tornado Preparedness in the Workplace
Emergency Evacuation Map:
Get a professional-looking evacuation map for your business to meet OSHA requirements as well as your local requirements. You provide us a layout or blueprint of your facility and we email the prepared emergency map to you for printing and posting.
Research of your state and local fire codes are taken into consideration for preparation
Color-coded with fire exits and evacuation routes
Additional items can be added if requested, such as, locations of fire extinguishers, fire blankets, defibrillators, first aid kits, eyewash stations, chemical spill kits, inside severe weather shelter areas, electrical panels, outside gathering place, main gas shut off, plus more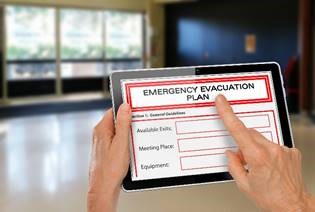 Contact us
 for a quote. Let SafeLink Consulting be your compliance solution to OSHA regulations. Support effective programs instead of government penalties and fines.
Contact us
to learn more about OSHA compliance training solutions.
Download FREE Emergency Action Plan for my business
SafeLink Consulting assists the following industries with safety compliance:
Complement your safety program with SafeLink Consulting's other beneficial compliance solutions: