Need assistance in developing your safety program, training employees, or just need an objective outsider's viewpoint of your existing program? Or looking to sell/purchase a business and need due diligence to ensure legal requirements are being met?
SafeLink's safety consultants can help you create a healthy and safe workplace. Save valuable time and money by outsourcing. SafeLink Consulting addresses your business needs whether they are basic programs to achieve OSHA compliance or comprehensive programs to enhance your work environment.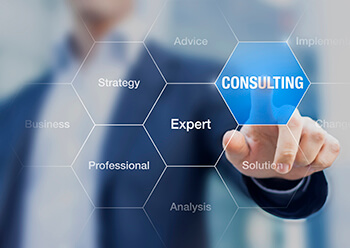 Benefit from any of these consultation options:
Hourly or Retainer-based Consulting – Assistance with an OSHA inspection or inquiry, general health & safety questions, specific issues or concerns, or due diligence
Onsite Consultation – Comprehensive plan to meet OSHA's written documentation and training requirements customized to meet your business needs including an assessment of your policies and work practices
Virtual Consultation – Assistance through private webinars with OSHA's training requirements and safety evaluation of your policies and work practices
Due Diligence Consulting – Get a third-party evaluation of legal requirements regarding OSHA, FDA and other applicable state, federal and international requirements being met for a business you may be purchasing or selling.
SafeLink uses a consultative approach – first understanding your risks, then establishing a program that will best address your needs while meeting governmental requirements.  We ensure that our clients consistently receive the highest level of support and that we are available when you need us.
Let SafeLink Consulting be your compliance solution to OSHA regulations. Support effective programs instead of government penalties and fines. To receive a quote from an OSHA expert, please contact us today.
Securing the Workplace for Employee Safety: https://info.safelinkconsulting.com/blog/securing-workplace
Elements of an Effective Electrical Safety Policy & Lockout / Tagout Program: https://info.safelinkconsulting.com/blog/electrical-safety-loto
SafeLink Consulting assists the following industries with safety compliance:
Complement your safety program with SafeLink Consulting's other beneficial compliance solutions:
Get In Touch