Health and Safety Manual – Customized for your business
Need assistance in developing your written health and safety program? Having a written plan in place is the first step to creating a healthy and safe workplace for your employees. With SafeLink Consulting's customized and industry-specific Health and Safety Manual you can feel confident that you will have all composed materials needed to meet the OSHA compliance written documentation requirements. This OSHA compliance manual features the most up-to-date information available to aid in addressing health and safety in the workplace. The written programs include safety procedures specific to your business and not just generic procedures. The Safety Manual takes into consideration all federal OSHA compliance written requirements and any OSHA state right to know plans plus tools to assist with your health and safety training program. Consulting support includes up to two hours of phone or email consulting to assist in the preparation of your written program.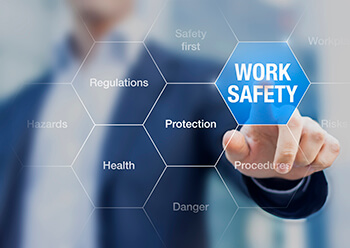 The Health and Safety Manual can include but not limited to the following programs:
Hazard Communication
Bloodborne Pathogen Standard
Exposure Control plan
Infection Control procedures / CDC Infection Control Guidelines
Safety procedures
Confined Spaces
Walking / Working Surfaces
Electrical Safety / Lockout Tagout
Equipment Maintenance
PPE – Personal Protective Equipment
Emergency Action & Fire Prevention
Respiratory Protection
Workplace Violence
Ergonomics
Vehicle Operators program
Safety & Health Training and Recording
Radiation
Nitrous Oxide / Compressed Gas
Injury & Illness
Noise Monitoring
Powered Industrial Truck Hazard Prevention
Plus, any other state or industry-specific programs
SafeLink's Safety Manual / OSHA written program is available in the following formats:
Secure Cloud-based OSHA Safety Manual – This is the best method for maintaining your Safety Manual with automatic federal / state OSHA regulatory updates. Easily view and manage securely online, reducing paper, and eliminating the loss of a hardcopy manual. Provides better document organization, increases efficiency, links policies, procedures, and forms.
Electronic/Softcopy OSHA Safety Manual – This format is sent electronically as a download. Programs are organized in folders as Word, Excel or PDF documents.
Hard Copy OSHA Safety Manual – This format is prepared in a binder with your company name and documents are organized by dividers. Also includes the electronic format for making changes to documents as needed.
Let SafeLink Consulting be your compliance solution to OSHA regulations. Support an effective safety program instead of government penalties and fines.
Contact us
to order your customized health and safety manual.
SafeLink Consulting assists the following industries with safety compliance:
Complement your safety program with SafeLink Consulting's other beneficial compliance solutions: