OSHA requires businesses to provide a healthy and safe workplace.
SafeLink's safety consultants can provide guidance with compliance of OSHA's federal and state government regulations. We provide you with customized training, health & safety manuals, and onsite surveys to help you meet OSHA compliance and maintain a safe work environment. SafeLink Consulting can provide onsite, phone, web-based or virtual consultations to best suit your needs.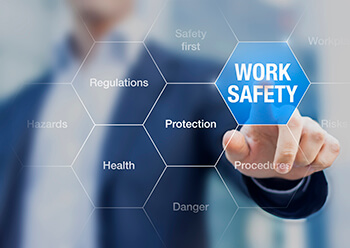 A Health & Safety Program can include but is not limited to:
Chemical Safety – Hazard Communication Plan
Bloodborne Pathogens / Infection Control – Exposure Control Plan
Hazard Assessment and Safety Procedures
Personal Protective Equipment Assessment
Safety Training
Evaluation of Safety Program
Emergency Action Plan
Investigation of Work-related Injuries and Illnesses
Injury and Illness Recordkeeping
Method of Enforcement of Safety Rules
Compliance with State-specific OSHA plan as applicable
Implementing the Hierarchy of Controls
Workplace Violence
Equipment Safety & Maintenance
Electrical Safety & Lockout / Tagout
Hearing Protection
Walking & Working Surface Safety
Vehicle Operator's Safety
Confined Spaces
Powered Industrial Trucks
Benefit from any of these OSHA compliance options:
contact us
 today.
SafeLink Consulting assists the following industries with safety compliance:
Complement your safety program with SafeLink Consulting's other beneficial compliance solutions: