Dental practices take pride in providing the highest care for their patients and ideal work environment for their staff. Their good standing and accountability are worth protecting. For over 30 years SafeLink Consulting has been assisting dental practices with health & safety compliance. SafeLink Consulting offers the most comprehensive compliance program available so the dental practice can be free to do what they do best. SafeLink Consulting can also assist with patient safety.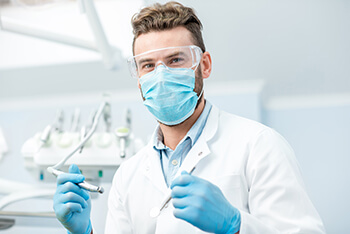 Why is assessing compliance so vital?
Assessing your dental practice is the only way to know if you are providing a safe environment for your patients and staff. The Assessment:
Verifies if you have effective work practices in place
Confirms you are properly following the CDC Infection Control Guidelines, all OSHA Standards including the Bloodborne Pathogen Standard, EPA requirements, and HIPAA privacy requirements
Discloses your risk position and prevention needs
Each year most businesses inspected by OSHA fail to meet the required standards. Dental practices can be reported by an employee to OSHA or by a patient to the dental licensing board. Even the best policies and procedures (protocols) need to be assessed annually to ensure your practice is compliant.
How often do I need to train my staff?
Training requirements vary according to federal and state regulations. For instance, the Occupational Safety & Health Administration (OSHA) requires the dental practice to train staff immediately upon hire, when new hazards are introduced, and in some cases annually on health & safety.
What training is required for my staff?
Bloodborne Pathogens – Re-examining your Exposure Control (including Infection Control) for the Dental Environment
, to get education in OSHA's Bloodborne Pathogen Standard (BPS). This course will examine the components of the Exposure Control Plan which must be established to eliminate or minimize employee exposure. Details of work practices, engineering controls, and personal protective equipment will be discussed to help employers re-examine the effectiveness of their Exposure Control Plan. The CDC guidelines for dental settings are also discussed. This video can be used not only as instruction on the Bloodborne Pathogen Standard but also as a part of your safety training on exposure control/infection control.
Get a customized Health & Safety Manual for your business including CDC infection control practices.
SafeLink Consulting assists dental practices all over the U.S. with regulatory compliance. Attempting to setup and maintain a customized safety program on your own can cost your business a lot of valuable time and money. Eliminate unnecessary costs, headaches and frustration by contracting SafeLink to assist you with establishing and managing a compliance program. Gain peace of mind knowing you have a reliable, customized safety plan in place that not only helps you protect your patients and workers, but also meets the federal and/or state OSHA safety regulations for written documentation and compliance training.
How do you know if your business has a proper infectious disease plan?
Does your health & safety program meet OSHA requirements & CDC guidelines and is it communicated properly to your staff?
How SafeLink Consulting can assist your dental practice with OSHA compliance:
Contact us
to learn more about compliance solutions and safety consulting.
Click here to get an Infection Prevention Coordinator Responsibilities Checklist: