Quick Access:
Regulatory Compliance for Medical Device Manufacturing
Successful businesses take pride in providing the highest quality for their customers and ideal work environment for their team. Their good standing and accountability are worth protecting. For over 25 years SafeLink Consulting has been assisting businesses with regulatory compliance. SafeLink Consulting offers the most comprehensive compliance programs available so your business can be free to do what it does best. SafeLink Consulting assists medical device manufacturers all over the U.S. with regulatory compliance and internationally with FDA compliance. Attempting to setup and maintain a customized Safety Program and/or Quality Management System on your own can cost your business a lot of valuable time and money. Eliminate unnecessary costs, headaches and frustration by contracting SafeLink to assist in establishing and managing these compliance programs. Gain peace of mind knowing that your business has reliable, customized programs in place that not only help you protect your workers, increase your bottom line, and provide continuous improvement, but also meet the federal and/or state OSHA safety regulations and FDA Quality System requirements.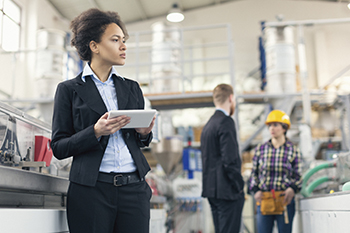 OSHA Compliance for Medical Device Manufacturing
Each year most businesses inspected by OSHA fail to meet the required standards.  Medical device manufacturers can be reported anonymously by an employee to OSHA, by various others such as business neighbors, or referrals which could be another regulatory agency. Even the best policies and procedures (protocols) need to be assessed annually to ensure your business is compliant.
 Why is assessing OSHA compliance so vital?
 How often do I need to train my employees?
What OSHA training is required for my employees?
Bloodborne Pathogens/Exposure Control, Chemical Safety/Hazard Communication, Personal Protective Equipment requirements, Injury and Illness Recordkeeping, Emergency Planning, Workplace Violence, Equipment Safety & Maintenance, Infection Control Practices, Job Safety Analysis, Electrical Safety & Lockout / Tagout, Hearing Protection, Walking & Working Surface Safety, Vehicle Operator's Safety, plus, other applicable federal or state right to know plans
What You Need to Know:
OSHA regulates medical device manufacturers (some exemptions apply).
An effective safety program helps you reduce worker's comp claims.
OSHA has the right to conduct a random inspection – just show up!
Frequently cited standards are Hazard Communication Standard, Bloodborne Pathogen Standard, Emergency Preparedness, Respiratory Protection, Lockout/Tagout.
OSHA requires written documentation of your safety program.
Your safety program must be evaluated for its effectiveness.
Manufacturers are subject to OSHA recordkeeping rules.
How SafeLink Consulting can assist your business with OSHA compliance:
Onsite or Virtual Employee Compliance Training – SafeLink's safety consultants train your team in a manner that ensures knowledge retention, brings positive results, and creates better acceptance by employees. Training is customized to your business' policies and procedures.
Onsite Assessment – This assessment is proven to be the most effective method of determining your risk position regarding employee safety. An expert knowledgeable about manufacturing conducts a thorough onsite assessment of your facility and work practices providing a detailed written report of your prevention needs.
Due Diligence – Get a third-party evaluation of legal requirements regarding OSHA, FDA and other applicable state, federal and international requirements being met for a business you may be purchasing or selling.
Health & Safety Manual – This manual is customized for your business to meet OSHA's federal and/or state written requirements and is available in multiple formats: Secure Cloud-based, Electronic, or Hard Copy.
Safety Consulting – SafeLink's consultant can help in developing your safety program, training employees or to give an objective outsider's viewpoint of your existing program.
Online Training Courses – Educational courses can be utilized for employees. Optional quiz and certificate of completion.
SDS Management – This service allows your business to receive 24/7 retrieval of Safety Data Sheet information in the event of an emergency. It also provides convenient access from your mobile device for remote workers. Safety Data Sheet information assists your business in meeting OSHA's Hazard Communication Standards and keeping in line with the Globally Harmonized System. SafeLink's electronic access option eliminates the need for paper copies of Safety Data Sheets.
FDA Compliance for Medical Device Manufacturing
The U.S. Food and Drug Administration (FDA) regulates medical device manufacturers. FDA has a right to inspect medical device manufacturers. If your business meets the criteria in the FDA Title 21 requirement, then you must comply with this requirement.
FDA's Title 21 requirement
Domestic or foreign manufacturers of medical devices are required by FDA to have "a quality system for the design, manufacture, packaging, labeling, storage, installation, and servicing of finished medical devices intended for commercial distribution in the United States.  The regulation requires that various specifications and controls be established for devices; that devices be designed under a quality system to meet these specifications; that devices be manufactured under a quality system; that finished devices meet these specifications; that devices be correctly installed, checked and serviced; that quality data be analyzed to identify and correct quality problems; and that complaints be processed. Thus, the QS regulation helps assure that medical devices are safe and effective for their intended use. The Food and Drug Administration monitors device problem data and inspects the operations and records of device developers and manufacturers to determine compliance with GMP requirements in the QS regulation."
Who must register with FDA?
There are many activities performed by medical device manufacturers that trigger registration with FDA. A SafeLink consultant can help you with making this determination.
Quality Management Systems (QMS)
Whether your business needs a fundamental Quality Management System to meet FDA compliance or desires a more comprehensive QMS to improve your overall business model, SafeLink Consulting is ready to help. Having SafeLink's Quality Consultant onsite to assist your business is the most beneficial method of developing your Quality Management System.
How SafeLink Consulting can assist your business with FDA compliance:
Product-Focused QMS Developing a Quality System for a certain product you are manufacturing? This Product-Focused Quality Management System (QMS) is designed to assist you in development of a Quality System that follows FDA's Title 21, Chapter I, Subchapter H – Medical Devices, Part 820 Quality System Regulation and any other FDA regulations applicable to your desired scope. Includes: onsite consulting, electronic Quality System documentation, assistance with FDA communication, educational online training courses, quality topic news relevant to safety, and onsite internal audit.
All-Encompassing QMS Exploring more ways to improve your business? This Quality Management System (QMS) is designed for the business that desires an extensive QMS which goes beyond simply FDA compliance. The goal of this QMS is to improve your overall business model for productivity, efficiency and profitability by minimizing errors. A well-structured quality system provides methods for determining the root cause of complaints and reducing reworks/remakes. Ultimately, it will improve your business. This QMS also follows FDA's Title 21, Chapter I, Subchapter H – Medical Devices, Part 820 Quality System Regulation and any other FDA regulations applicable to your business model. Includes: onsite consulting, electronic Quality System documentation, assistance with FDA communication, educational online training courses, and onsite internal audit.
Quality System Internal Audit Need an Internal Audit to meet the FDA requirements? SafeLink can perform this audit for you to establish conformance with the FDA Quality System Regulation. FDA requires that establishments periodically perform an Internal Audit.
Quality Consulting Already have a quality system in place or considering implementing one and have some specific questions about your business? Contact us for quality guidance or assistance with an FDA inspection/response. Hourly consulting available.
FDA Registration Businesses that are involved in the production and distribution of medical devices intended for use in the United States (U.S.) are required to register annually with the FDA. SafeLink can help you determine if your business is required to register and guide you through the process.
510(k) Requirement Medical device manufacturers intending to develop and market devices may need to submit a premarket notification to secure clearance by FDA. SafeLink Consulting can assist you in determining if your business model meets this requirement and provide guidance.
Contact us
to learn more about compliance solutions.
What You Need to Know about FDA Compliance:
FDA regulates medical device manufacturers
Manufacturers that outsource to foreign facilities must register with FDA
FDA has a right to inspect all medical device manufacturers
All medical device manufacturers should have a documented quality system
CAPA (Corrective Action) is required and helps you reduce remakes
A contract manufacturer must register and pay an annual fee to FDA
You must formally evaluate your vendors and subcontractors for compliance to regulatory requirements
You must be able to trace your devices in the event of recall
You must conduct an internal audit of your quality system periodically
You must document all complaints from customers
You must implement an effective corrective action process for complaints